On the road with more than two children
Bike trailers are approved for the use of up to two children. If you want to take three children with you, you can travel with a bike trailer and child seat at the same time. If both a trailer and a child seat is used, it is recommended to first couple the trailer to the bike with the children already seated in it and then put the other child in the child seat. Depending on the model, cargo bikes can carry up to six children. If the cargo bike itself is only designed for two children, you can also attach a bike trailer and / or a child seat to the bike.
Children who cycle independently
Children who can already cycle independently and are under the age of 8 must ride on the sidewalk and have been allowed to be accompanied by an adult (aged 16 and over) on the sidewalk since December 2016 (Section 2 Paragraph 5 StVO). Children between 8 and 10 years have the choice of cycling on the sidewalk or on the street. Click here for further legal information. (German Website)
Wet
The brakes of the bike should be checked regularly as their function is impaired in wet weather, the braking distance increases, and they wear themselves out more due to the moist road dirt. If you are traveling with your bike and trailer in the rain, it is advisable to attach a splashguard to the rear wheel of the bike so that as little dirt as possible splashes on the trailer. If your storage space is not covered: rain covers are available for cargo bikes and bike trailers as well as for child seats.
Cold
If babies can be pushed in a stroller during winter, they can just as well be taken on a bike during winter. Of course, it is important to dress them warm enough. Various manufacturers offer a kind of sleeping bag that can be connected to the respective belt system using slits on the back. The standard winter sacks from the stroller manufacturers can also be used, provided that there are corresponding slits on the back. Alternatively, blankets can be used as long as the child can still be buckled up properly. In snow and ice, cycling is risky without special equipment (e.g. spiked tires) – you should never take this risk with children.
Darkness and poor visibility conditions
Bicycle lighting is not always part of the standard equipment of cargo bikes. Functioning lighting must then definitely be added. The lighting must be compliant with traffic regulations (StVO). You can get further advice from your local bike shop. To improve the visibility for other road users it is important to wear light-coloured clothes and to equip the bike and trailer with reflectors. This goes especially for grey and gloomy months but of course also all throughout the year in fog, rain, or twilight.
Heat and sun protection
Regardless of whether you carry small children in a bike trailer, a cargo bike, or a child seat: they should be protected from heat and direct sunlight. Children have very sensitive skin, so you have to put sunscreen with a high sun protection factor on them before cycling in the sun. Light fabrics are ideal for sun protection and providing shade, as they heat up less quickly than dark colours. If possible, shady routes should be used to avoid the intense radiation at noon. Some manufacturers offer sun protection covers as accessories for their trailer and / or cargo bike models. Such sun cloths can also be improvised from old towels. Click here for more tips for a small budget.
Fresh air supply in heat and sun
If a sun protection cloth is used in a cargo bike or bike trailer, it is incredibly important to ensure sufficient fresh air circulation. Many trailer models have air slots in their covers. Most of them also have a mosquito net through which enough fresh air can circulate. Depending on the model, there are weather protection sheets on the sides that can also be removed so that even more air gets into the trailer. During the ride, the mosquito net should always be closed as it also protects the little passengers from dirt and gravel. At temperatures above 25° C, the roof of a cargo bike should never be completely closed. Otherwise, the air underneath the cover turns warm and stuffy very quickly.
Protection against shocks
If a baby that cannot yet sit independently is taken by a bike (cargo bike or bike trailer), it is important to only make use of the corresponding devices and mechanisms. Depending on the model and manufacturer, these can be baby seats or infant swings. Other transport options do not adequately protect the baby from shocks, and it can neither be carried lying down nor buckled up properly. We recommend a self-adjusting suspension (see picture) or one that can be adjusted individually. It absorbs shocks and thus protects the baby's spine.
Exhaust gases
If you are concerned that your baby may inhale too much exhaust gases in the bike trailer, choose your route accordingly. Avoid busy roads, also for reasons of noise protection. Use side roads with little traffic, if possible, ride over paved field paths or through parks. However, studies of the General German Bicycle Club (ADFC) show that the gas pollution tends to be generally lower for cyclists than for motorists. Click here to find the statements of the ADFC. (German Website)
Take breaks
As with car journeys, a baby should not be transported in an infant swing or baby seat for long periods of time (several hours). It rather should be able to change its position and posture after a certain time. For helpful information see the manufacturer's specifications. Our tip: Take a break after two hours at the latest. For example, place your baby on a baby blanket so that it can move, or simply carry it around a little.
Mood-lifting
Cycling also has many positive effects on the cyclist's health. It trains the circulatory system as well as the movement coordination, it reduces stress, lowers blood pressure and the level of cholesterol, and relieves the back and the joints of the locomotory system. It also promotes self-confidence, allows for better interaction with the environment (compared to the car) and ensures a higher throughput of oxygen in the entire body, including the brain. So, cycling not only strengthens your calves, it also lifts your mood!
Taking people with you by bike
In Germany, the transport of people on bicycles is regulated in Section 21 of the traffic regulations (StVO). Only children up to the age of seven may be taken on a bicycle. Special seats must be used with devices that prevent the children's feet from getting caught up in the spokes. Bike trailers for children can carry up to two children. The person who is taking the child must be at least 16 years old. There is no legal minimum age from which on children can ride along on a bicycle.
Cycling with a baby sling?
The lawyer Jörg Lünsmann, a specialist in traffic law, comments on this question as follows: "A baby sling or a baby carrier are not a special seat as required by the traffic regulations for the transport of children. In the event of an accident, the question arises whether the baby would have suffered similar injuries if it had been taken in a proper seat or device. If the injuries had been significantly less if they had been transported properly, the parents can be charged with negligent physical injury." Legal basis: Traffic Regulations Section 21 Paragraph 3 and Criminal Code Section 229.
Bicycle helmets
In the event of an accident, a helmet can prevent serious head injuries. In Germany, it is not compulsory to wear a helmet for people who ride a bicycle or are taken on a bicycle. This is evident from section 21a (3) of the traffic regulations (StVO). Important note: After an accident, a new helmet must be bought. The accident helmet is no longer 100% safe (cracks in the material, often not even visible).
No bicycle helmets for infants
There are usually no bicycle helmets for infants. If a baby cannot yet sit independently, it rides along almost horizontally and cannot wear a helmet. The helmet would push its head forward, forcing the neck and spine into an unfavourable posture, which could result in postural defects.
Bicycle helmets on child seats
If children are taken on the bicycle with a child seat, they more or less sit at the same height as the cyclist. In the event of an accident, the little passengers therefore fall off the bike the same way the cyclists do. In this case, a helmet is absolutely sensible and should be worn by the child to avoid major injuries.
Bicycle helmets in bike trailers
Bike trailers have a metal frame and a rollover bar as specified in DIN EN 15918. The babies and children are always buckled up in the trailer. In the event of an accident, the little passengers cannot fall off the trailer and are secured in it like in a cage. Nevertheless, a helmet can avoid injuries.
Bicycle helmets on cargo bikes
Cargo bikes do not have a rollover bar, as is required for bike trailers. They usually have a simpler belt system (no three-point belt); they can also tip over easily in the event of an accident. We therefore recommend for the children traveling with you to put on a bicycle helmet.
Bicycle helmet tips
It is crucial for the use of a bicycle helmet (this goes also for adults) that it is tight (but not too tight!) on the head and covers the forehead. If the straps are too loose, it can slip off the head. When this happens, there is a danger of strangulation. Helmets are available in stores for head sizes starting from around 45 cm. Depending on the manufacturer, they are available from about 20 euros (as of July 2018). The fit of the fastening system is adjustable via a small fit dial, so that there is no need to buy a new helmet every time the child's head has grown further. Our tip: Get advice from a local bike shop. Take your child with you when buying the helmet – this way it can be adjusted correctly, and your child can choose its favourite design.
Where do cyclists have to ride and where can they?
The decisive factor is always the signage according to traffic regulations (StVO) § 41 and not the coloured markings on pathways or on the road.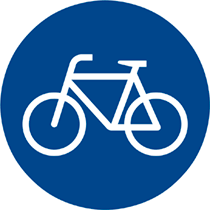 Cycle path
You have to stay on bicycle paths. If you cycle alongside the cycle path, although it could be used, and there is an accident, the insurance cover may not apply.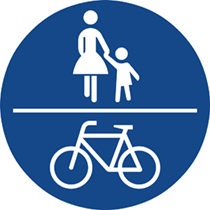 Shared pedestrian and cycle way
Pedestrians and cyclists must use this path, it is prohibited for other road users.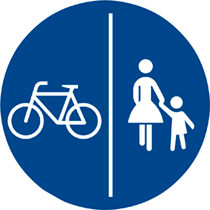 Separated pedestrian and cycle way
Pedestrians and cyclist must use the respective path.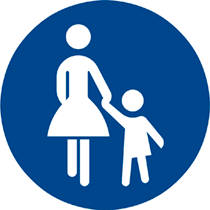 Pedestrian way
Only pedestrians are allowed to use this path, it is forbidden for other road users. However, this does not apply to cycling children up to 10 years of age and their parents accompanying them by bike. Cyclists must be considerate of people walking.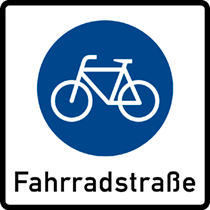 Bicycle road
The road is only open to cyclists unless otherwise indicated by an additional sign. The speed limit is 30 km/h. Bicycles have priority.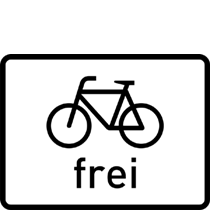 Cycling free
Bicycle traffic is also permitted here, for example on sidewalks, in pedestrian zones (attention for pedestrians, cycling at walking speed if possible) or against the direction of traffic in one-way streets.
Buy second hand
Buy a used trailer or cargo bike. However, to avoid buying stolen goods, ask the previous owner for proof of purchase. If you decide to buy something new, you can resell your old trailer or cargo bike: Used trailers and cargo bikes achieve fairly high resale values. The baby insert can also be resold.
Save on strollers
Some parents completely go without a classic stroller and instead use a baby sling or carrier in combination with a bike trailer that can be converted into a stroller. However, new-borns should only be taken in the trailer for a maximum of 30 minutes, since a completely horizontal position is not possible.
Do not buy all extras
Not all extras need to be purchased. Sun protection, for example, can be attached to the trailer with a cloth. Rain protection for parked trailers or cargo bikes is also possible with a tarpaulin and lashing straps. Another option is to use tarpaulins made for motorized two-wheelers (see local shops for motorcycle accessories). A child seat can be protected from the rain with a large plastic bag.
Do not compromise on safety
Do not compromise in safety – after all, it is about the health and well-being of your child. A rear light for the children's bike trailer and well-functioning brakes on your bicycle are an absolute must! You should also buy a helmet if you want to take your child in a child seat without worries.
Sharing
The shared use of bike trailers or cargo bikes in your district or neighbourhood considerably relieves the wallet of all parties involved. It is best to organise a small neighbourhood garage with different models together with like-minded people. Find out more about rental systems in your city, for example through the Forum for Free Cargo Bikes. (German Website)
Child seat – the cheapest alternative
Basically, a child seat mounted on a bicycle is cheaper than a trailer and a trailer is cheaper than a cargo bike. Also, the child seat saves space when parking the bike and does not necessarily require a seperate garage. If you can wait until your baby can sit independently, a child seat is the cheapest alternative.
Links
Information on exhaust emissions when cycling: www.sueddeutsche.de
Website of the German Sport University Cologne, information on cycling during pregnancy from a medical point of view: www.sportundschwangerschaft.de
A comprehensive overview of almost all existing cargo bike models on the market can be found at: www.nutzrad.de
Book tips
Comprehensive and easy to read book for cycling with children: G. Fehlau/C. Gebel, "Das Familien-Fahrrad-Buch. Vom Kinderanhänger zum Jugendrad", Bielefeld 2011
Practical tips and experience reports on cycling with children from day-care age: Christoph Burgstaller, "Papa, du sollst weiterfahren! Kinder-Fahrrad-Anhänger in der Praxis", Purkersdorf/Österreich 2014
Describes in detail how the person in the saddle keeps the joy: J. Neuß, "Richtig sitzen. Locker Rad fahren. Ergonomie am Fahrrad", Bielefeld 2017